Imagine eight year old friends downing full glasses of beet smoothie for their afternoon snack, a huge bowl of kale chips completely disappearing into the mouths of preschoolers and siblings fighting over the last baked cauliflower tot. Yes, all of these things actually happened in real life. Open your kitchen to the wonderful world of food and you might be surprised at what you discover.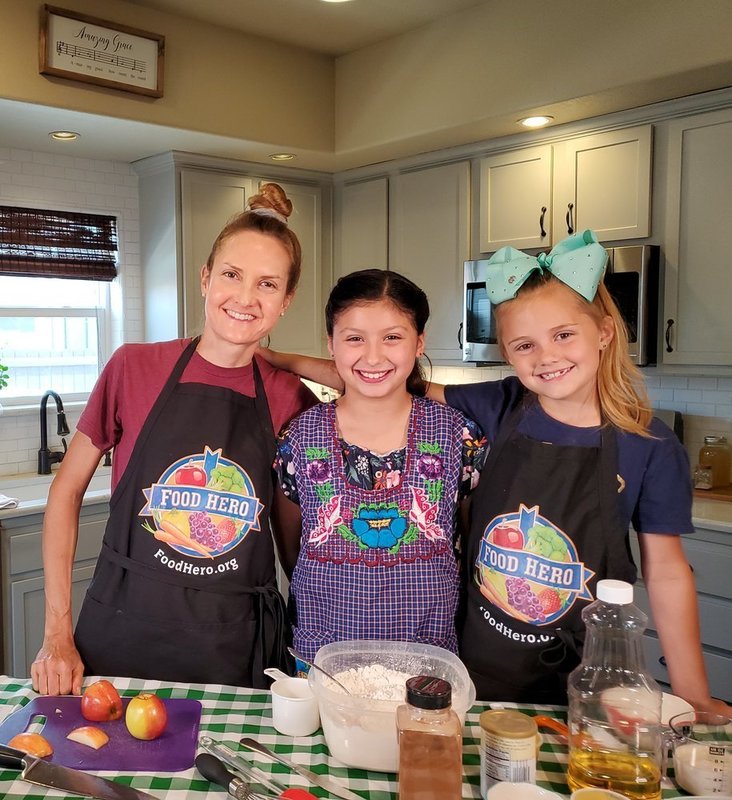 Angie Treadwell, Acelyn Treadwell (8) and Carli Sanchez (10)
To get started, let's cover some basic guiding principles for encouraging children to explore and embrace a variety of foods. These principles are based on the work of Ellyn Satter, a Registered Dietitian and internationally recognized and respected authority on eating and feeding.
Don't Force It
Children are responsible for how much and whether they eat. Nobody ever learns to love a food by being forced to eat it. Trust me, the years I spent providing individual nutrition counseling to adults reaffirmed this, over and over again. Make mealtimes pleasant and don't pressure, beg or bribe children to eat. If meals are enjoyable, everyone will look forward to them. If they are a battleground, everyone will dread them.
Be Patient
Some foods are more challenging and may take 10-20 exposures before a child learns to enjoy them. Exposure to food does not necessarily mean eating. Children learn about foods by touching, tasting, smelling and taking food in and out of their mouths. Give them time to learn and explore before assuming they don't like a certain food. That said, kids and teens will go through phases when they only want to eat certain foods or refuse foods they previously enjoyed. Don't panic or overreact. Given little attention, these phases will eventually pass.
Be a Good Role Model
Keep in mind that children learn about food through observing the adults in their life. Take time to relax and enjoy a variety of foods at meals. Practice good table manners and polite behavior. Perhaps you and your child can explore new foods and different cuisines together.
Don't Be Afraid to Get Messy
Cooking with children and youth is one of the best ways to encourage them to explore and consume new and different foods. An added bonus is that most cooking experiences involve some form of applied literacy, math and science. You may be surprised at what your children will eat when they help prepare the food. Yes, this can make a mess in the kitchen and there will be some epic fails. However, the glorious victories and the memories you make will far outweigh any negatives. Let go of perfection; it doesn't exist in the real world. Besides, perfect is boring.
In the Kitchen
Food Hero Crunchy Baked Kale Chips are popular with children, youth and parents in the cooking workshops I teach. You can broaden the experience by shopping with your child at the Farmer's Market or grocery store for kale or harvesting it from your own garden. Assign tasks to children based on their age and development. The Kale Chips recipe has tasks that are appropriate for preschoolers through teens. For example, most 3 year olds can tear kale with their fingers while you may feel comfortable allowing an older child to use a chef's knife to cut the kale. Make sure you involve everyone in clean up.
Food Hero Crunchy Baked Kale Chips
Ingredients
1 bunch fresh kale (about 8 cups, chopped)
1 Tablespoon canola or olive oil
1⁄2 teaspoon salt
Directions
Preheat oven to 350 degrees F.
Wash kale leaves.
Cut leaves off of thick stem and thoroughly dry leaves in a salad spinner or by blotting with paper towels. Discard stems.
Tear or cut leaves into bite sized pieces. Place in large bowl.
Drizzle oil over kale and toss to coat well.
Place kale leaves onto baking sheet.
Sprinkle with salt.
Bake until edges brown. About 10-15 minutes.
Resources
For more ideas on involving children in kitchen and recipe ideas, check out the Food Hero Cooking Show at https://foodhero.org/food-hero-cooking-show
To learn more about Ellyn Satter's work to make eating and feeding a positive experience for the whole family visit https://www.ellynsatterinstitute.org/
Angie Treadwell is a mother of 3, a Registered Dietitian and the SNAP-Ed Coordinator for Oregon State University Extension in Umatilla and Morrow counties